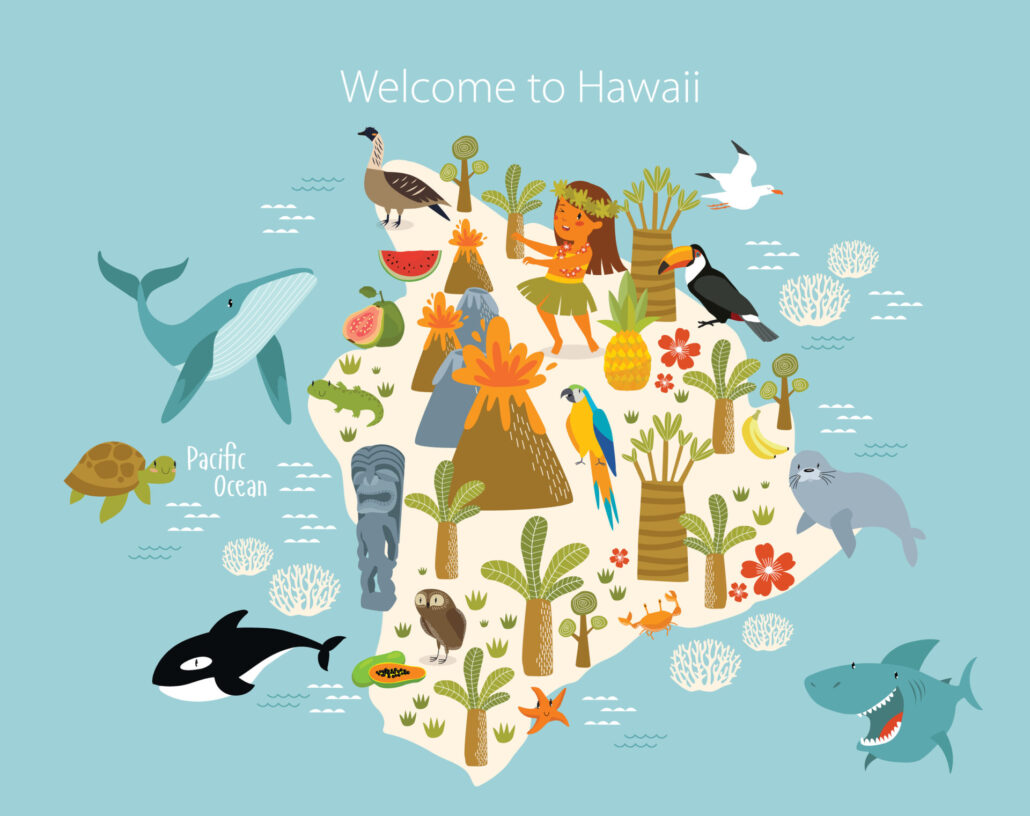 If there is one well-known type of coffee that originates from Hawaii it is definitely the gourmet 100% Kona coffee

The ArtOn Café blog is always interested to bring to you the 'coffee news' from all over the world, even from the farthest country you could imagine – Hawaii (and it is not our first article about these magnificent islands!).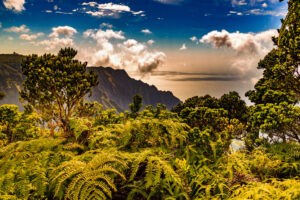 When you think about coffee fields and production chains, Hawaii probably won't be the first country that pops into your head, but it is the only state in the United States that grows coffee. This is a very special thing about Hawaii, since there are not so many countries where people drink the coffee they themselves grow.
In Hawaii, this is exactly the situation you find. The producers, or local farmers, sell their beans mostly to their local cafes, retail outlets and restaurants. The enormous world market of coffee is not that interesting for Hawaiian producers since the islands are far away and the expenses are quite high. However, the thing that they are most proud of is that Hawaii coffee can without doubt compete when it comes to high quality, specialty coffee since every farm in Hawaii has the potential to produce one-of-a-kind coffee. Hawaiian people are well known for their passion for coffee and for them coffee isn't a way of life — it is life (Hawaii Coffee Association, n.d.).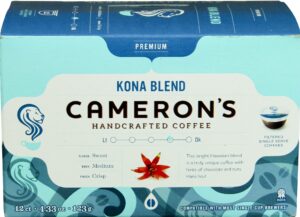 More on Kona and other Hawaii coffees
When you talk about Hawaiian coffee, most people immediately think of Kona Coffee, which has long been regarded as one of the world's top specialty coffees. However, Hawaii offers a considerable variety of high quality coffees. Substantial amounts of different green coffee beans are now being produced and exported all around the world. Some, it is said, are of such high quality that they can even be compared to the famous Kona beans.
Coffee farms on the islands
The Big Island itself has about 790 coffee farms, mostly family owned, and the growing regions are located in Puna, Hamakua, Hilo and Kau. The other islands only have about 40 farms, but they include two very large coffee plantations, one on Molokai and one on Kauai. Hawaii can be very proud of the large number of coffee farms that it has nowadays. The Kona region alone has between 650 and 700 coffee farms, and they are very small in size, just three to seven acres. Kona is grown on about 2,000 acres, while the total coffee acreage in Hawaii is about 7,800 acres.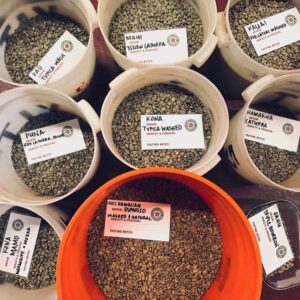 The prices
The price of the coffee varies depending on the  grade, and usually the lower-grade coffees are around $20 per pound roasted, while the higher-grade coffees tend to go up to $35-$40. The prices could go down as far as $30 per pound if you buy larger quantities (5-10 pounds). On the other hand, green coffees that are Kona certified are sold for $15-$25 per pound. So if you find yourself buying roasted Kona Coffee at $20 per pound or less, you're probably buying coffee that in fact isn't Kona certified. This coffee is for the most part sold by the roadside on the islands and is a very low quality coffee which definitely cannot be labelled as Kona.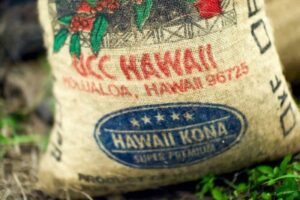 The level of roasting
Generally, coffee can be roasted in accordance with the personal taste of those who are drinking it. Kona coffee is a high-quality coffee and it is recommended that it should undergo a medium roast, to bring out the best flavours, or a medium-dark. So the very dark coffee sold as Kona is usually low-grade coffee that has been over-roasted to disguise its defects (insect damage, mould, over-ripeness, under-ripeness).
Festivals and coffee tours
Kau Coffee Festival is held every spring in the Kau region, while the Kona region hosts the Kona Coffee Cultural Festival every autumn. It was founded in 1970, and it hosts nearly 50 events in just 10 days. The festival is known for events like Coffee & Art Stroll, Cupping Competition, Farm & Mill Tours, International Lantern Parade etc.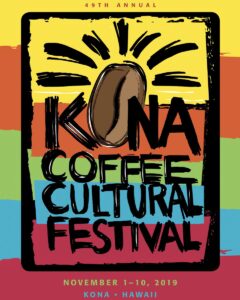 The good thing is, if you are a big coffee lover and you are visiting Hawaii, you can enjoy the Kona Coffee Farm Tours all year round! Most of the farms organize tours, during which you will naturally be shown around the orchard to see the growing coffee. Afterwards you can tour the processing area and taste some of the coffee produced on those farms. These tours are sometimes free, but usually need to be scheduled beforehand.
Other types of Hawaii grown coffees
Kona coffee is for sure the coffee that has placed Hawaii among the top ranking coffee producers in the world. About 95% of all Hawaiian coffee is being grown on the Big Island. The remaining 5% consists mostly of beans grown in Ka'u, Puna, and along the Hamakua coast. Each coffee has its own unique taste and it depends only on your personal preference to say which is the best.
To find out more about Hawaiian Coffee visit the following website https://crazycoffeecrave.com/hawaiian-coffee/.
KA'U COFFEE – Ka'u coffee has a floral bouquet, a distinctive aroma, and a very smooth taste. Ka'u Coffee has recently entered the top ten in tasting competitions at the world's largest coffee fairs – for instance, the Specialty Coffee Association of America Convention. It can be ordered online on the websites of the Kau Coffee Mill and the Silver Cloud coffee farm. There is even a special Ka'u coffee festival in the Big Island organized every May.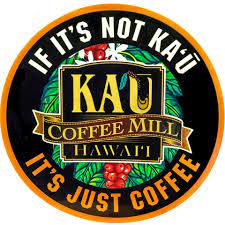 PUNA COFFEE – This coffee has a longer history than the others. In the mid-1800's there were 6000 acres of coffee being grown in the Puna district, but for a period of time, with the rise of sugar cane, coffee disappeared from Puna. Currently, more than 125 acres are covered by this coffee's plantation. It is described as a full bodied, heavy coffee, with nutty overtones. It reminds one a lot of some of the finer moccas when roasted to a medium. You can buy this coffee online at  Sharky's coffee or the Hilo Coffee Mill, if you cannot go to Hawaii and taste it directly in its native land .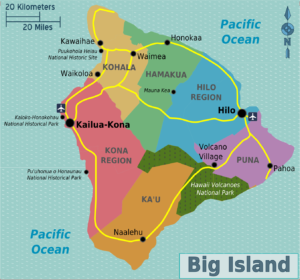 HAMAKUA COFFEE – The Hamakua coast is known for its rolling hills and incredible scenic drives. The tropical slopes of the Mauna Loa volcano used to be sugar cane country but now, slowly, they are transforming into coffee country. Most coffee farms on the Hamakua coast are small (on average 5-7 acres) and the berries are hand picked. Hamakua coffee is said to have a rich flavor with a chocolaty-smooth finish (but you are going to have to check this out for yourself).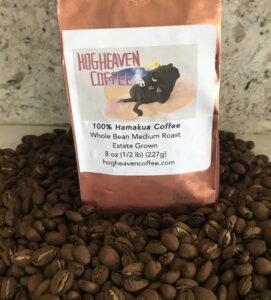 PEABERRY COFFEE – These beans are more expensive than the normal coffee beans and taste better, according to the experts. Peaberry is a "double" coffee bean.  Normally coffee beans grow two to a fruit. These two beans compete for space and flatten out in the middle, much like the two halves of a peanut. In about 5% of all coffee beans only one of the two seeds in the bean is fertilized. When this happens this one seed can grow in the whole fruit, and it develops into a larger, rounder bean. Before the roasting process they are separated from the normal "flat" beans, since they are not to be roasted in the usual manner. According to coffee folklore, peaberry beans taste better because of their higher bean density which improves heat transfer in the roasting process. They are also said to roast more evenly because their rounder shape minimizes sharp edges and allows the berries to roll about in the roasting chamber more easily. (Espresso Coffee Guide, n.d.)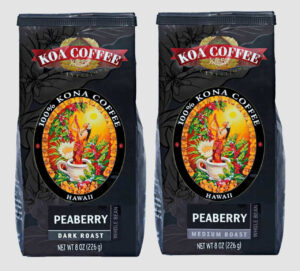 Is the Kona in your cup real Kona coffee?
The farmers in Hawaii believe that cheap, commodity beans sold as Kona gourmet coffee beans around the world has affected the prices of their own high-quality coffee beans and damaged its reputation as a sweet, smooth, slightly nutty brew. Recently, more than 700 farmers have become eligible to receive the settlement payments from the lawsuit that they filed against 22 big-name retailers and suppliers. Farmers hired scientists to determine whether "Kona" sold by Hawaiian Isles Kona Coffee Ltd. and other companies was the real thing.
They demanded that blenders must say on their packages what portion of the beans are actually Kona beans with the distinctive flavour which comes from the rich volcanic soil, tropical sunshine, gentle breezes and jungle rains. They also want them to stop using the Kona label completely if the percentage does not meet a minimum threshold set by Hawaiian law. The farmers hope their beans will one day become a product with a trademark and that it will become much more protected against counterfeits.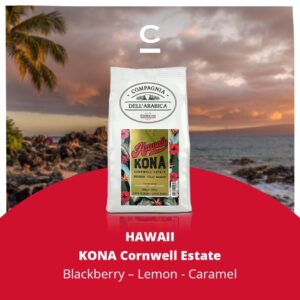 Kona coffee dates back to the 1820s, when missionaries started planting the crops. They sprang 20 years later but faded out towards the end of the century as labour costs rose. Afterwards, the immigrants from Portugal and then Japan bought the land and divided it up into small shares , where they built and ran family farms for over a century. (Los Angeles Times, 2021).
Geisha coffee sells for US$68.50 per pound
The anaerobic natural Geisha from Kona Geisha Farm was purchased for 68.50 US dollars per pound by Latorre & Dutch Coffee Traders at the Hawaii Private Collection Auction that was organised by the Alliance for Coffee Excellence (ACE) with Isla Custom Coffees. The average price per pound came in at US$37.29 per pound. Isla partnered with ACE for a Private Collection Auction mostly because of the cancellation of SCA Expo 2020. Usually, the Hawaii Coffee Association booth allows people to taste a range of Hawaiian coffees and the group did not want to lose a year of sharing Hawaii's innovations with the world. In this auction there were 12 yeast-fermented coffees, showcasing the ability to deliver excellence through fermentation as opposed to exotic varieties and high elevation. "We're looking forward to continuing the innovations from this year's auction — such as yeast fermentations in closed environments — as well as selling traditional washed coffees," Joan Obra of Rusty's Hawaiian said.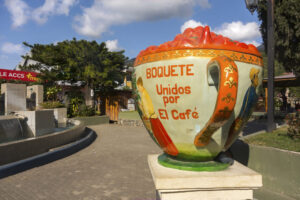 The producer of this highly priced coffee, Doug McKanna of Kona Geisha Farm, imported his seeds from Finca La Milagrosa in Boquete, Panama, and planted them in February 2018. Doug, who processes all of his coffees as naturals, mechanically dried whole cherries in dehumidifying dryers which he designed and built (Bean Scene Magazine, n.d.).
A threat found on Hawaiian Island of Kauai
The privately owned Kauai Coffee company which maintains some 4 million coffee trees on more than 3,000 acres, has never reported any presence of CBB. The discovery on Kauai came from a single resident from the unincorporated community of Kalaheo who suspected infested berries on a home plant.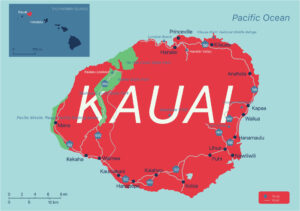 It was later confirmed that the CBB, the coffee berry borer, was found in some samples on Friday, Sept. 4, 2020.
The pest known as the coffee berry borer (CBB) is the coffee beans' worst enemy. It feeds primarily on arabica. The female beetles lay their eggs and the larvae feed on the coffee bean. The coffee farms throughout Africa and the Americas have been suffering from the horrible effects this little insect has had on their crops for decades, generally creating waves of prolonged crop destruction. In the State of Hawaii, where strict green coffee quarantining measures are in effect on various islands, the pest was first discovered on the island of Hawaii in 2010, on the island of Oahu in 2014, and on Maui in 2016.
Source: YouTube
Hawaiian Irish Coffee
To end the article on a more positive note, as always, we tried to find and serve you one very special recipe that combines Hawaiian love of coffee with a very famous Irish coffee. Read on to find out more about this specialty! Every ingredient of this cocktail is a locally made product, from the Kō Hana Agricole Rum to the locally milled raw sugar from Maui, from the freshly grown vanilla bean from the North Shores of Oahu to, of course, our very own award-winning Kona Estate Coffee.
"Using ingredients that are all paired together from the same growing region is a unique thought we had when crafting this recipe", the Honolulu coffee owners say. "We swapped out the traditional Irish whiskey for the beautifully balanced Koho, Kō Hana Agricole Rum. Every varietal of their heirloom sugar cane has a story and a flavor profile all of its own. Their Hawaiian Agricole Rum is distilled from native Hawaiian sugar cane, giving it an impressive foundation for this cocktail. We then brewed a freshly made Chemex or hand brew of our award-winning Kona Estate Coffee. Experience the unique flavors of lilikoi, dark chocolate, and raw honey" (Honolulu Coffee, 2021).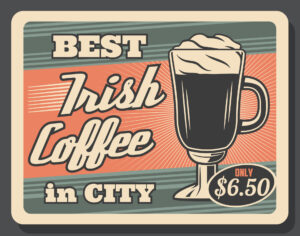 Hawaiian Irish Coffee Recipe
Servings
1 drink
Prep Time
5 minutes
Cook Time
5 minutes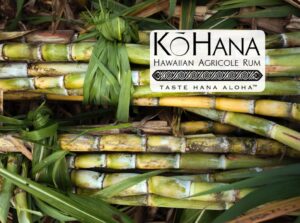 Ingredients
1 oz Koho, Kō Hana Agricole Rum
4 oz Kona Estate Coffee, Freshly Brewed
1 Tbsp Maui Raw Sugar
2 oz Fresh Vanilla Bean Whipped Cream
1 tsp Firepot Amai Matcha Powder
Directions
First, pre-heat your glassware with hot water
As this is heating, start to brew your coffee.
Pour your coffee into a liquid measuring cup to portion out 4 oz.
Empty out the water from your preheated glassware.
Pour the piping hot coffee into the warmed glass and add the Maui Raw Sugar. Stir gently for 30 seconds, or until the sugar is fully dissolved.
Pour the rum into your glass.
Top with a healthy dollop of freshly made whipped cream.
We choose to garnish this cocktail with a bit of our Firepot Amai Matcha powder.
Bibliography
Hawaii Coffee Association (n.d.). Retrieved May 21, 2021 from https://hawaiicoffeeassoc.org/Islands
Espresso Coffee Guide, Hawaiian Kona Coffee Beans. Retrieved May 21, 2021 from https://espressocoffeeguide.com/gourmet-coffee/asian-indonesian-and-pacific-coffees/hawaii-coffee/hawaii-kona-coffee/
Los Angeles Times, 2021. Hawaii coffee farmers hope lawsuit settlements guarantee the Kona in your cup is real. Retrieved May 21, 2021 from https://www.latimes.com/world-nation/story/2021-03-17/kona-coffee-legal-settlements
Bean Scene Magazine, n.d. Ninth-place Geisha Coffee. Retrieved May 21, 2021 from https://www.beanscenemag.com.au/ninth-place-geisha-coffee-sells-for-us68-50-lb-in-first-hawaii-private-collection-auction/
Daily Coffee News, 2020. Coffee Borer Found for First Time on Hawaiian Island of Kauai. Retrieved May 21, 2021 from https://dailycoffeenews.com/2020/09/14/coffee-borer-found-for-first-time-on-hawaiian-island-of-kauai/?utm_source=Roast+Magazine+%26+Daily+Coffee+News&utm_campaign=197777c0a1-EMAIL_CAMPAIGN_6_14_2018_8_20_COPY_01&utm_medium=email&utm_term=0_8f24fab631-197777c0a1-193817856
Honolulu Coffee, 2021. Hawaiian Irish Coffee. Retrieved may 21, 2021 from https://www.honolulucoffee.com/blogs/news/hawaiian-irish-coffee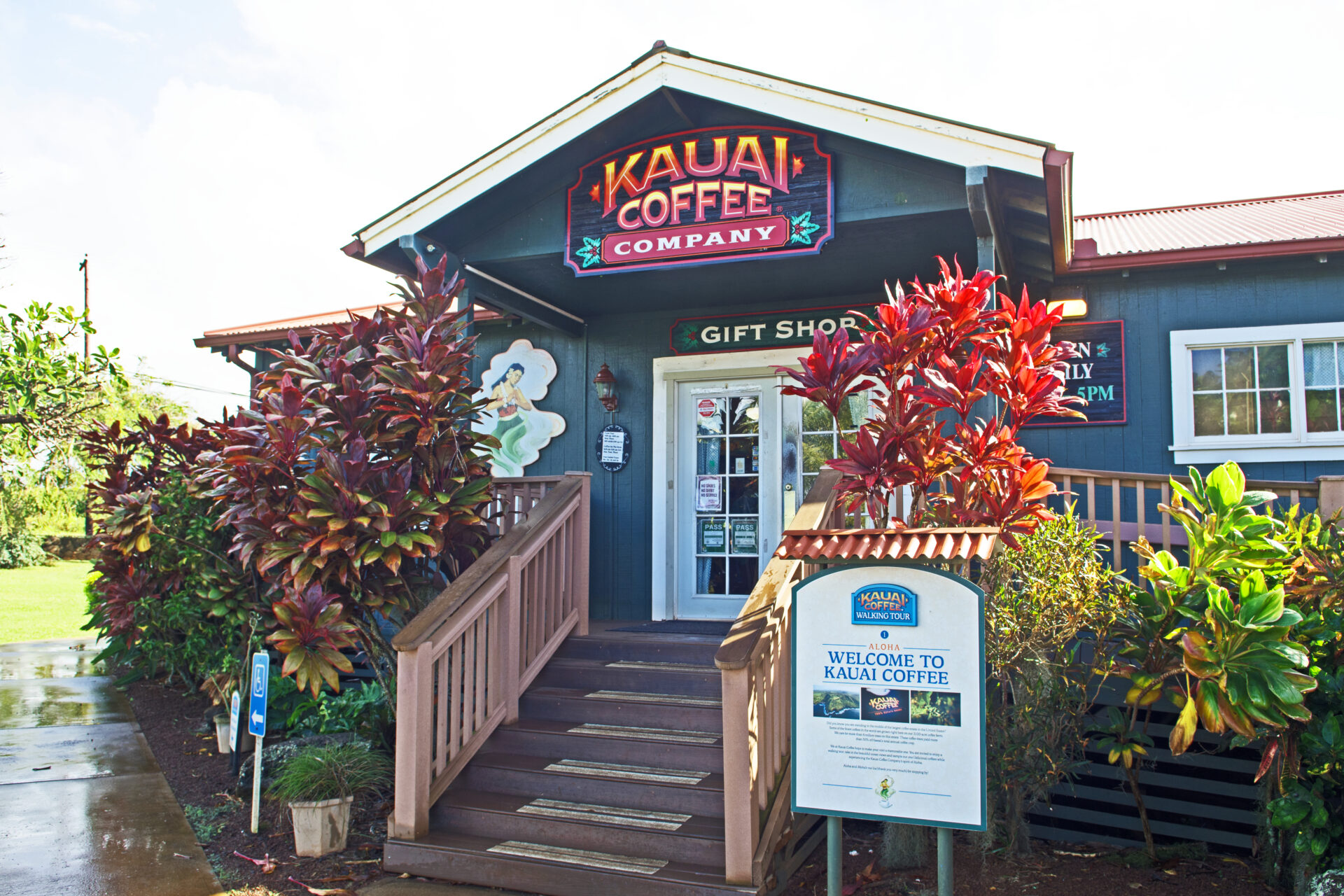 https://www.artoncafe.com/wp-content/uploads/2021/05/Hawaii-1.jpg
1521
1920
Danica
https://www.artoncafe.com/wp-content/uploads/2020/07/logoB220x70.png
Danica
2021-05-24 18:53:19
2021-08-11 22:41:05
The land of the gourmet Kona coffee